Books by Marie Betts Bartlett
Book Reviews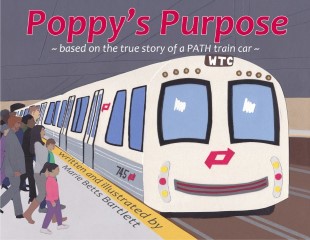 Reviews of Poppy's Purpose
I was so moved by Poppy's Purpose! It's a multi-layered story based on the real-life PATH train that (though the book never specifies) survived the 9-11 attacks in New York City; but it's also a story of how goodness and humanity come out of terrible events. On still another level, Poppy is like all of us who want to find a role -- a purpose, in life -- for ourselves, even when forces beyond our control change everything. Parents can read this to young children without worrying that it's going to say too much about that day. The illustrations are wonderful -- colorful, dynamic, and seemingly simple -- while also bringing out details and emotion. The author has done an amazing job.
- Amazon
I was so wary- a children's book related to 9/11? But my fears were unfounded. There is a fire, and towers that tumble. That's it. The rest is about Poppy hoping to carry her passengers again. There's hope, adapting to change, and caring enough about people (or things) to really do something about them. An amazing vehicle to start conversations with your kids. This was potentially a really difficult subject, but the author made it into a book we can be really happy about. And I loved the illustrations. Like the ones she did in The Little Yellow Trolley Car, but more complex.
- Amazon
This is a wonderful book that touches people of all ages. The subject of 9/11 is a tough one -- tough for adults to relive and tough for kids to learn about. I would have thought it impossible to tell the story of 9/11 to children without giving them nightmares. But the author somehow managed to do this so gently that the story is totally appropriate for young children. And she didn't gloss over details either -- she was able to shine a light on the good things that were going on at the same time. I cried at the end of the book because it was so touching. - Amazon
Really, this book is not about 9/11. This book is about unexpected change, gracefully adapting, and kindness. Simple, bold, beautiful in text and illustrations. And only if you want, can open the door to lots of interesting discussions with young children. - Amazon
---
Articles and interviews about Poppy's Purpose
Here is an article in the Greenfield Recorder.
Here is an interview on New England Public Radio.
---
Reviews of The Little Yellow Trolley Car
I gave this to my grandchildren and it wasn't just a hit- it was out of the ballpark!
- J. Rafen, Springfield, MA
It's a real fairy tale, but with the trolley car as the hero, and full of appealing illustrations.
- Irmarie Jones, Greenfield Recorder, MA
I gave the book to my cousin's son. He loves it! Now he thinks I am an angel.
- H. Dresser, Shelburne Falls, MA
What a treat. My grandchildren are totally entranced by the story of the recovery of the little yellow trolley car and by the sound oriented language. As a teacher and lover of picture books myself, I love it as well. This is a book I look forward to sharing with others.
- G. Lytle, Amazon
This is a delightful children's book. While the artwork and brief text are intended for potential traction fans aged two through eight years, their adult companions will also enjoy reading it with them.
- Railfan & Railroad Magazine, July 2012
I feel like the trolley was brave when she was alone. I can't believe the trolley could hold all that heavy milk. I would have liked to put the trolley back together.
- Carl, age 8, Colrain, MA
This story is so lovely, with just the right amount of emotion. It brings the older, quieter ways of hilltown life to us in a way that will appeal to young children.
- Margot Apple, children's author and illustrator, "Sheep in a Jeep", "Brave Martha"
A charming story with lovely, original illustrations. Perfect for reading to children and grandchildren! Also, the simple story has an important message for adults -- everything old can be made new again.
- Joanna, Amazon
The Little Yellow Trolley Car is a joy:) The story in Yellow Trolley is timeless, warm and cute, and the words mimic pleasant and surprising sounds. Most outstanding are the pictures! Each page has so much color and detail. The intricate collage layers give a three-dimensional sense, and the people's faces are very expressive. The beginning and final scenes inside the trolley are so vivid you can imagine yourself there. We saw new things each time!
- Sandy, Amazon
I liked when she was making the sound "Clickety Clack" and when she was driving from town to town. I liked all the pictures. This is a fun book!
- David, age 5, New York, NY
My 3-year-old loves the "sounds" in the book - the caLUNK of the milk bottles, clickety-clack of the trolley, etc. and the other two children love looking at the different people - kids and adults - depicted in the pages, the chickens in the trolley car; the book even prompted a thoughtful talk about how things change. A wonderful book!
- Louise, Amazon
Delightfully Heart Warming! The Little Yellow Trolley book is a great example of personification that touches the heart of young and old readers alike. The author gives such strength, determination and pride to the Trolley, that readers can't help but have an immediate attachment to her. Young readers love that this is a true story and especially enjoy the sounds and noises that are a very big part of the Trolley's adventures. Beautiful paper collage pictures depict the story with clear, colorful detail. Children love hearing the story again and again.
- J.Shilling, 1st & 2nd grade teacher, Leyden, MA